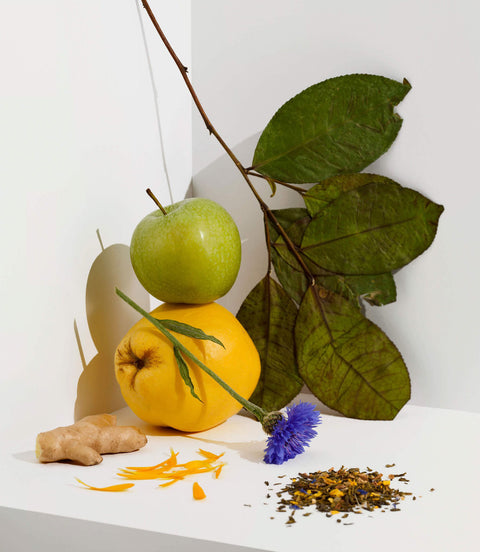 Green Quince Tea
Award Winning green tea infused with zesty quince and soothing ginger. To drink during the day - hot or cold. 
AWARD Winner of AA Taste Award in Japan.
Subscribe to our Green Quince Tea, and get your daily tea in the mail every month.
Ingredients
Green tea (70%), organic apple pieces, organic ginger, organic sunflower, natural quince flavouring (1,5%), organic cornflower petals, organic quince pieces (1%).
15 x 2g = 30 g Net (Net Wt/ 1,06 oz)
Brewing
Brewing temperature: 80 degrees Celsius/176 degrees Fahrenheit
Bring fresh, cold water to boil
Set a side approximately 1 min
Then pour on the water
Brewing time: 5-7 min.
Storing
Always store this high quality tea in a tin can to maintain the benefits of vitamins, minerals and antioxidants from the leaves and that the tea maintains its freshness, flavour and aroma.
Buy 3 Refill bags
And get 10% discount
Bundle contents
Add 3 items to get 10% discount