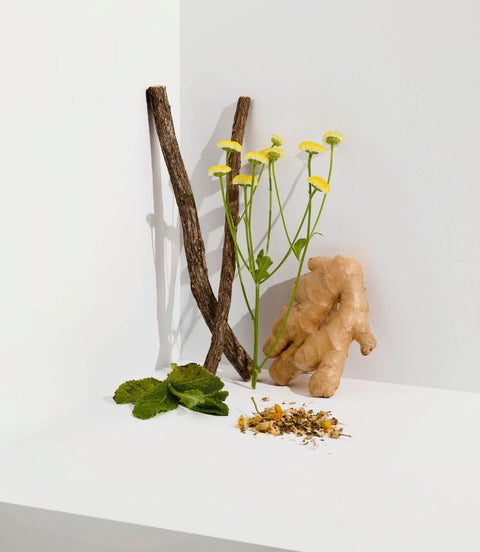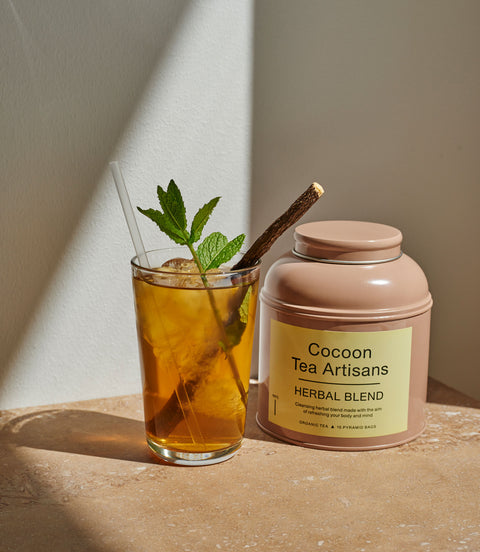 Herbal Blend Organic infusion
Our organic Herbal Blend is infused with chamomile, licorice root, peppermint and ginger to refresh your body and mind. We recommend drinking our Herbal Blend during the day both as a hot and cold drink.

To call upon the different tastes and the deliciousness of our Herbal Blend, we recommend adding a licorice root to stir, a slice of ginger or fresh mint leaves.

The Herbal Blend can be used to make your own homemade ice tea in the summer, or as a hot drink during the colder months.

The Herbal Blend Caddy consists of 15 pyramid bags. Our carefully designed pyramid bags protect the quality and the tastes of our ingredients inside the bag. The caddy safeguards the freshness and benefits of the antioxidants-, vitamins- and mineral-rich blend.
Subscribe to our refill bags, and get your daily tea in the mail every second week or month.
Ingredients
Organic chamomile, organic licorice root, organic peppermint, organic ginger.
15 x 2g = 30 g Net (Net Wt/ 1,06 oz)

As our Herbal Blend tea contains licorice, persons suffering from hypertension should avoid excessive consumption of this tea sort.
Brewing
Brewing temperature: 100 degrees Celsius/212 degrees Fahrenheit
Bring fresh, cold water to boil
Then pour on freshly boiled water
Brewing time: 4-6 min.
Storing
Always store this high quality tea in a tin can to maintain the benefits of vitamins, minerals and antioxidants from the leaves and that the tea maintains its freshness, flavour and aroma.
Buy 3 stackable tea caddies
And get 10% off your purchase
Bundle contents
Add 3 items and get 10% off